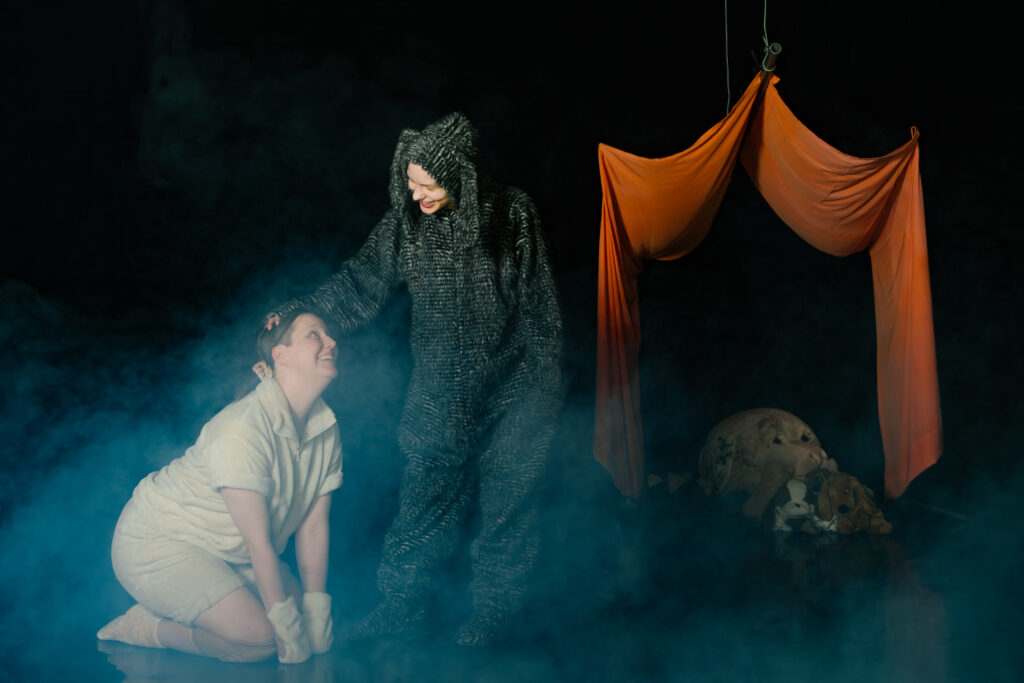 Snart premiär för Hundgöra på Skogen i Göteborg (25-27 aug), lite senare i höst också på Weld ( 27, 29, 30 sep, 1 okt) i Stockholm!

I juni 2021 började Tova Gerge och Britta Kiessling jobba med ett tanke- och rörelsematerial som hette Illusionism and Dogs/Våra hundar på Köttinspektionen i Uppsala med ett litet residens. Det var ett bångstyrigt material som gick från att allvarsamt undersöka maktrelationer mellan människor med hjälp av hunden som metafor, till att bli cartoonish lek med hundgestalten som portal till humor och publikkontakt.

Som det ofta är har det som nu heter Hundgöra på vissa sätt gått varvet runt, och är kanske numera en föreställning om att göra sig sårbar i kärleken också när man inte vet om det är bra för en. Men det är också en föreställning som vi spelar för en publik från 5 års ålder, som innehåller allt från synkron boyband-dans till hundmasker i olika storlekar. Det har varit en repetitionsprocess där vi många gånger skrattat så vi gråtit, men också utmanat vår förmåga och funderat på var gränserna för våra identiteter som scenkonstnärer går. Som performers kommer Tova och Britta kanske snarast från samtida dans, men här finns inslag av clown och burleskt skådespeleri, rimmade sånger och cabaretdramaturgi, där nummer och karaktärer avlöser varandra. Vi utgår från att det händer någonting intressant i genrekrockarna, och att det är konsekvent med tankar om The Art of Queer Failure som funnits med oss under processens gång.

Att testspela för unga barngrupper, som ofta säger och visar rakt ut vart de riktar sin uppmärksamhet, har också varit väldigt spännande.

Såhär presenterar vi Hundgöra för publiken:

För människor och fantasihundar från 5 år och uppåt
Föreställningens längd: ca 45 minuter
*
Vi har gjort många hundar i den här föreställningen. Allihop är till er:
Roliga hundar och ledsna hundar. Små och stora hundar. Hundar som stannar, och hundar som sliter sig loss. Hundar som kommer och försvinner, hundar som är hungriga, som är med i popband, fornegyptiska hundgudar och hundar som ger dåliga råd. Rufsiga och tufsiga hundar. Hundar som älskar för mycket eller för lite. Hundar som inte gillar människor så mycket. Hundar som måste hålla sitt eget koppel. Hundar som måste vakta hela natten på dem de bryr sig om. Och hundar som äntligen kan somna när man kliar dem bakom örat. Era hundar, våra hundar, allas inre hundar.
Föreställningen innehåller dans och sång och lite prat, men har ingen historia, bara många olika hundar.
**
Av och med: Tova Gerge och Britta Kiessling // Kläder och mask: Ziggi Willpower // Ljus, rum och bild: Ekaterina Lukoshkokva // Ljud: Elize Arvefjord // Clownkonsulent: Virginia Librado Gallego
Med stöd av: Kulturrådet, Konstnärsnämnden, Stockholms stad // Samproduktion: Nyxxx, Skogen och Weld
Tack till: Zebradans, Köttinspektionen