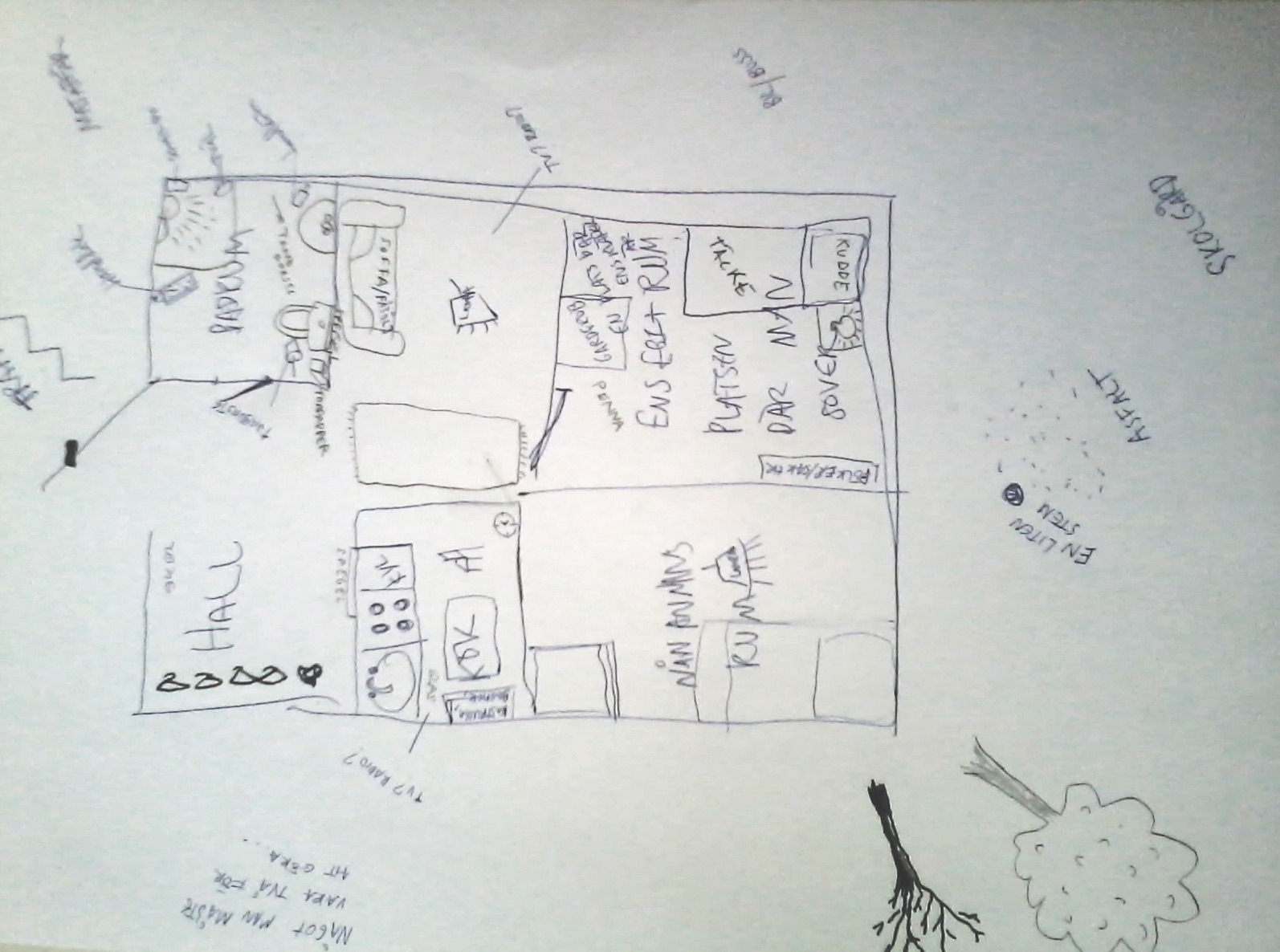 Den här bilden kommer från sommaren 2015, när vi försökte gissa vilka rum som de flesta mellanstadiebarn har tillgång till i sin vardag. Ungefär för ett år sedan började vi nämligen arbeta med vår första radioföljetong, och eftersom vi till skillnad från på teatern inte kan dela rum med vår publik när vi sänder radio ville vi förstå var vår publik kunde tänkas befinna sig och hur vi eventuellt kunde använda de platser publiken lyssnade ifrån i vårt verk.
Processen och resultatet blev ganska olika det vi ursprungligen tänkt oss, och det har varit mycket lärorikt. Vi har bekantat oss med ett helt nytt mediums utmaningar och möjligheter. Vi har också skrivit i en helt annan genre än vi brukar, och därmed fått öva på traditionell dramatisk komposition.
Den 15 augusti kl 20.35 i P1 sänds första avsnittet av Spöken i maskinen.
Nyxxx (med Tova Gerge bakom tangentbordet) har alltså skrivit fem spökhistorier i samarbete med Drama för unga i Barnradion. Programmet är gjort för mellanstadiebarn och i dialog med dem. Ebba Petréns regi blandar fiktivt amatörreportage med kusligt sagoberättande. Elize Arvefjord har gjort ljudet. Till varje spökhistoria finns också en musiksatt podd där vi får ta del av berättelsen mer ur spökenas perspektiv.
I centrum för radioprogrammet står annars Vendetta Korn (Ester Claesson) som från sin butik med gamla ljudgrejer spelar in egna radioprogram om magi, andar och väsen. I var och en av de fem delarna hjälper hon ett barn som varit med om något oförklarligt. Vi använder det övernaturliga som motiv för att berätta om hantering av sorg och andra stora känslor.
Återstår en fråga att besvara: Vad är det för maskin? Det finns två svar. Det ena är att det handlar om Vendetta Korns ekograf, en maskin som kan fånga upp ljud som det mänskliga örat inte kan höra. Det andra svaret är att vi blinkar till vår gamla favoritfilm Ghost in the Shell där människor blir värdar för kognitiva varelser som uppstått spontant i internets informationsflöden. Vi tänker på människorna i vår radioföljetong som värdar för olika extrema tillstånd. Oavsett om spökena i någon bemärkelse är deras egna eller inte så måste de ändå härbärgera dem, låta sig själva bli spökenas vistelseplatser.
Nämnas kan att Ghost in the Shell i sin tur inspirerats av författaren Arthur Koestler, som använde begreppet Ghost in the Machine som titel på sin bok om olika våldsamma och paranoida tillstånd hos människan. Begreppet tog han från filosofen Gilbert Ryle som använde det för att beskriva problemen som uppstår när man försöker skilja på sinne och kropp, som att kroppen var en maskin och sinnet ett spöke som animerar maskinen. Ryle menar att det inte finns någon skillnad på kropp och sinne; maskinen är spöket och vice versa.
Det är intressant att tänka på människans uppfunna maskiner på samma sätt. I någon bemärkelse är vi radion vi lyssnar på, och radion är oss.
Välkomna till Nyxxx första radioproduktion.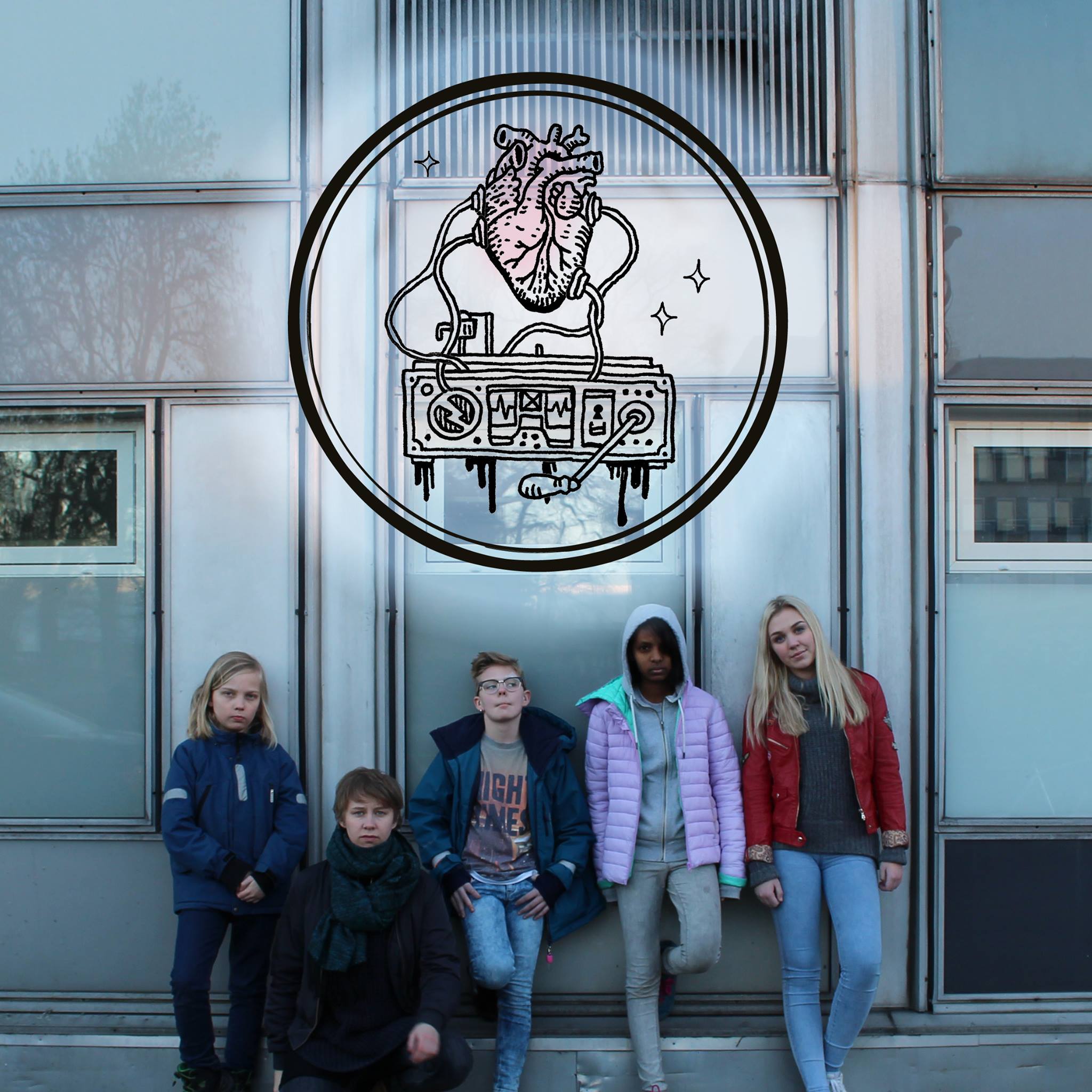 Avnitten illustreras på webben med originalteckningar av Albin Werle och Gabriel Widing. I rollerna hörs Ester Claesson, Michalis Koutsogiannakis, Rosie Björkman, William Winter, Mathilda Lindström, Sinit Bein, Danait Bein, Laila Torsson Berger, Joline Gustafsson Hällkvist och Ebba Petrén.