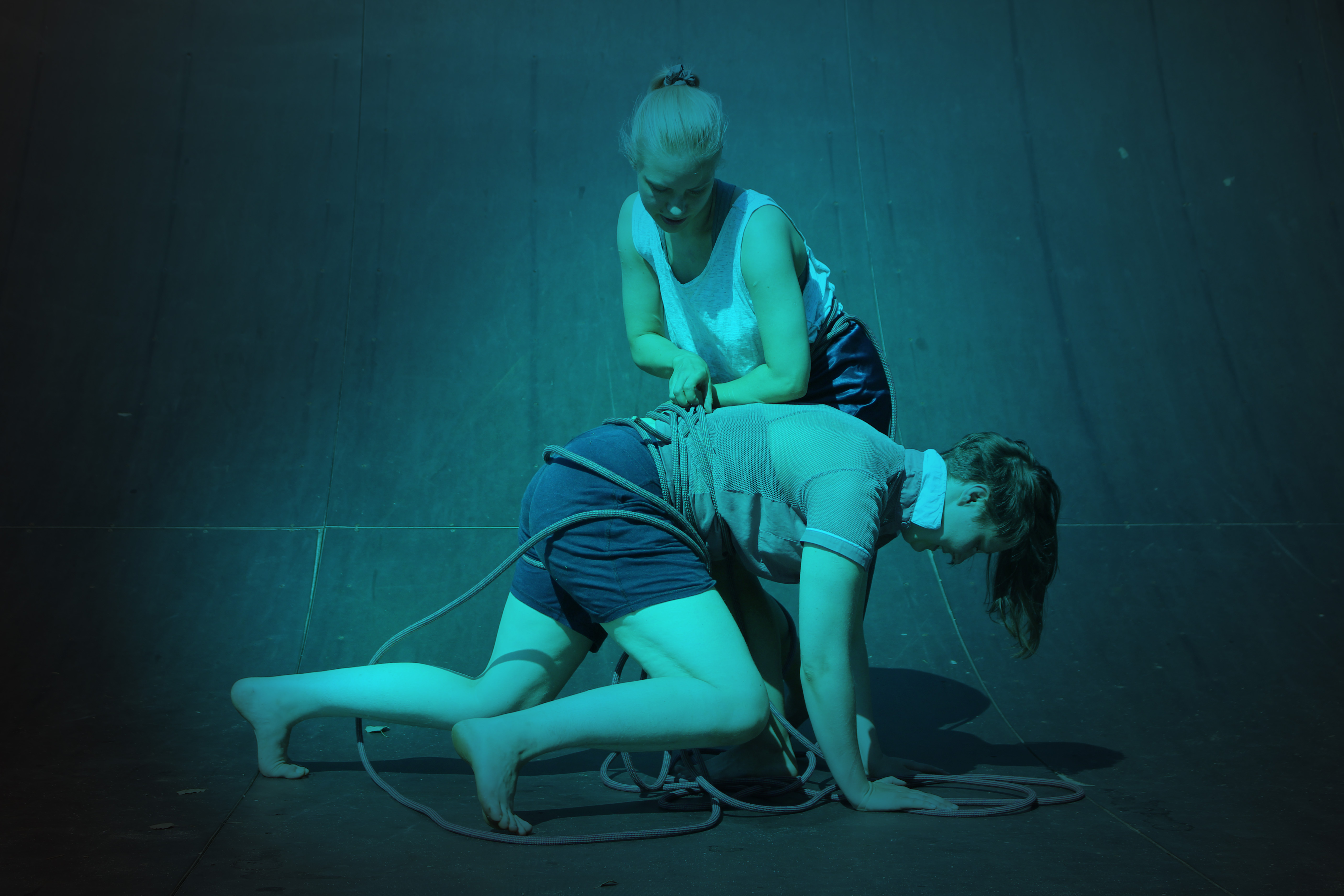 In November, Nyxxx project Someone You Trust premieres in a first version at Skogen in Gothenburg.
Someone You Trust uses the practice of rope bondage to explore trust.

For us who made Someone You Trust, trust is based on listening, consent and clear frames for participating or opting out. Someone You Trust is an attempt to establish conditions for that, both in the encounter between two people, and in the encounter between audience and artists.
The performance is divided into two acts. You can choose to come to both of the acts or just one of them (whichever you prefer). In connections to the rehearsals, there will also be a theoretical outlook on Japanese rope bondage.
SOMEONE YOU TRUST – THE PARTICIPATORY ACT
You and someone you trust book a common ticket, and you come to the performance together. Together, you will follow instructions for how to use a number of ropes. The instructions are calm and invite you to listen to each other and yourselves in a meditative way.

Though in different places, you share room with the others who participate in the first act. Just like you, they follow instructions for tying and being tied.
The instructions are in English.
You need no previous experience of bondage to participate.
Don't decide on forehand who will tie and who will be tied.

The participatory act will play
– 23–24 of November 18.00–19.00
– 25 of November 16.00–17.00.

SOMEONE YOU TRUST – THE WATCHING ACT
You book a ticket and come to the performance alone or in company, whatever you prefer.
You and the rest of the audience sit down and watch what happens on stage.
On stage, Tova Gerge and Britta Kiessling follow instructions that are both similar to and very different from the instructions in the first act. It becomes a dance with ropes, trust, risk and listening.

The performance is in English.

The watching act will play
– 23–24th of November 19.30–20.30
– 25th of November 17.30–18.30.
SOMEONE YOU TRUST – THEORETICAL OUTLOOK
18th of November. More information soon.
WITH AND BY
TEXT: Tova Gerge and Britta Kiessling
PERFORMERS: Tova Gerge and Britta Kiessling
TEXT EYE AND ROPE RESEARCH: Christian Nilsson
SOUND: Elize Arvefjord
LIGHT: Josefina Björk
ROOM: Josefina Björk, Tova Gerge and Britta Kiessling
ARTISTIC SUPPORT: Gabriel Widing och Ebba Petrén
Thanks to
Everyone in the performing arts collective Nyxxx.
Everyone who helped us to develop the participatory act.
With the support of: Japanstiftelsen, Längmanska kulturfonden, The Swedish Art's Grant Committee, Cirkör LAB, c.off, The Swedish Author's fund and Stockholm County Council